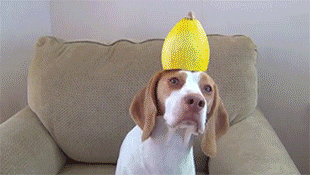 Wow, guys! Sorry for the blog neglect
I always have to remind myself that the world continues turning when we haven't had the time or energy to blog. I also never want to put so much time into blogging that I cut down on the amount of free time I have to actually read, you know? And I'm trying to pick up a little creative side-hustle or two, along with work and keeping fit and getting enough sleep and eating the right food… It's a balancing act, I think.
Anyway, now that I've spent a solid few minutes being distracted by Maymo (who, seriously, can balance friggin' anything on his head and what the heck), let's chat about that reading challenge I said I was doing this year! Back in March I changed my 50-books-a-year challenge to a 60-books-a-year challenge, and honestly ever since then I've been headed downhill. Wait, no, downhill sounds like it's been easy. I mean to say I've been struggling! I think the proper phrase is that it's been an UPHILL BATTLE. (Stick with me, guys. It's a Monday. I can words eventually.) As of this past weekend, I have finally hit the 20-book mark and am officially 33% of the way through my challenge! Which means I only have to read 10 books in June and then I'll be back on schedule. Which I can do. Definitely.
I've been busting my gut to push through and read read read, and a couple of the things I've done are not things I've ever really done before… for instance, I've started reading a few books at a time. Whaaat?! Generally I don't like doing this because I feel like I get the plots confused and I like keeping one narrative in my head at a time (not to mention that some books have several narratives going on already, which means, aaaah, even MORE narratives!). But honestly it hasn't been so bad. I think particularly when I'm trying to tackle a loooong book – which is what I'm doing at the moment! Hello, Brisingr! – I'll be more open to reading shorter books on the side. Call them palate-cleansers or breathing spaces or whatever you will!
I did this with Robin McKinley's Beauty, which I read when I was a kidlet and hadn't picked up again until the past week. It was just as lovely as I remembered it being, and it made the perfect fast interlude, kind of like doing a quick 200m sprint during a marathon (sorry for the sports comparisons – I ran a 5k on Saturday and another 5k on Sunday and my legs still haven't forgiven me).
Another thing I've done a bit of is reading aloud, which is kind of like an audiobook but only really works when you have someone to read to. Between the two of us, Kyle and I read the first chapter of Sting's autobiography, Broken Music, to one another, which was really great (and full of IMPRESSIVE vocabulary – that dude knows some big words!). I also read a bit of Artemis Fowl and a few chapters of Coraline aloud to Kyle and had loads of fun doing so. My mom used to read aloud to my sister and me when we were growing up – she read all of the Harry Potter and Chronicles of Narnia series as well as the entirety of The Lord of the Rings! – so it actually makes me super happy. It also makes me think of Cath and Levi of Rainbow Rowell's Fangirl fame, which warms my heart so much. (I neeeeeed to reread that book this year!)
Goodreads also seems to think that based on what I've read so far this year, I should REALLY reread Harry Potter and the Deathly Hallows:
*shrugs* So maybe a Harry Potter rereading marathon is due. I also have Laini Taylor's Daughter of Smoke & Bone trilogy CALLING to me from the bookshelf, and I received my hardback copy of Aurora Rising by Amie Kaufman and Jay Kristoff via courier on Friday (insert much screaming and fangirl-y noises here)… so honestly, I have no excuse to reach my goal!
I'll just keep on keeping on and try to balance as much as I can – as fast as this year is flying by, I think I can still hit my target. If you'd like to follow along with what I'm reading, my Goodreads profile is here 😀
Tell us how your year/month/week's reading challenge is going, if you're doing one, and post links to your Goodreads profiles in the comments! Happy Monday – and happy reading, everyone 🙂